Bonds and Climate Change: State of the Market in 2016 is the fifth yearly report on the state of the "climate-aligned" bond market, issued this summer by the Climate Bonds Initiative. The Climate Bonds Initiative is a UK-based not-for-profit focused on mobilizing the $100 trillion global bond market to finance climate change solutions.
Following on a launch event for the report earlier this summer in London, a Green Bonds Roundtable will introduce this report to Boston-area investors on Thursday, September 15th. Hosted by State Street Global Advisors, CBI's CEO, Sean Kidney, will present the 2016 report and lead a discussion of how local investors can engage in the development of the green bond market.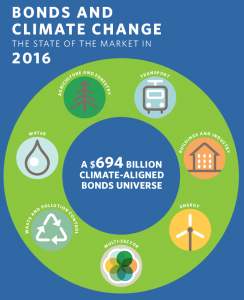 Do not be put off by the multiple terms – "climate" and "green" bond, with "climate-aligned" thrown in for good measure. At one level, the difference reflects primarily the origin of the terms, just as two words in English may capture the same concept, but sound very different because of their origins in different languages.
The term climate bonds reflects an origin in the COP climate change conferences, with a focus on financing the transition to a low-carbon economy. The term green bonds reflects its origin in World Bank projects focused on improving the environment. A climate bond is by definition a green bond; a green bond may not underwrite a climate change solution, but it's also likely to not have a detrimental impact on the climate.
Climate-aligned may seem less clear-cut, but it is a more important distinction for the purposes of the CBI report. The report covers $118 billion of debt identified and "labeled" as green bonds and a further $576 billion of "climate-aligned" but unlabeled debt that finances climate-aligned assets. The larger universe reflects more than just labeling or certification – there are thematic differences and an expanded scope. For example, while energy and building-related projects represent the largest share of green bonds, transportation represents a far larger proportion of climate-aligned debt. (Over time, expect to see more transportation-themed green bonds.)
That $694 billion offers a broad range of characteristics – duration, quality, industry, geography, currency – that investors look for in the debt market as a whole. This event is an opportunity to sample that diversity.
When: Thursday, Sept. 15th from 8:30 am- 10:00 am
Where: State Street Global Advisors, One Lincoln Street, Boston
Register: e-mail info@climatebonds.net to reserve a place
Green Bond Roundtable in Boston – Bonds and Climate Change 2016: State of the Market report