Since I previously used "a timely January event" to describe our upcoming January Sustainable Investing event, Resilience and Climate Change Planning in Boston, I am grateful to our two newspapers – the Boston Globe and the Boston Herald – for the opportunity to reference them in a reminder post that could have otherwise recycled the same title…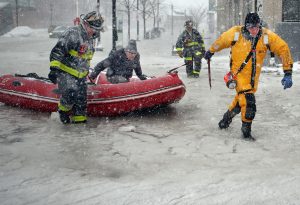 The accompanying photo from the Boston Herald shows firefighters rescuing a man from his flooded car on Boston's State Street during the January 4th storm. Other images from Long Wharf, Atlantic Ave. and the Seaport are particularly compelling for the many investment professionals and institutions housed in those areas.
"Concern for Future Rises with Waters", the front page article from the Boston Globe's January 5th edition (retitled "Flooding in Boston's coastal neighborhoods takes residents by surprise" online) and "Mayor Walsh sees climate change warning in Boston flooding" make a similar point in greater detail.
The articles highlight the importance of planning for climate change in the development and the economic life of the city and region. Referencing the Climate Ready Boston plan released last year, the mayor observed, "We have to pay more attention to what we're doing with climate resiliency".
Please join us on January 17th when our panel:
will define the foremost climate related sea-level rise, heat, and health problems faced by Boston, then present and discuss a broad range of solutions, with a focus on specific initiatives by the city, state, architectural community, and a climate-solutions mutual fund.
A vivid reminder for January 17th's Resilience and Climate Change Planning in Boston