I'm very pleased to announce that our Research Brief – Mainstreaming Sustainable Investing – has just been published by the CFA Institute Research Foundation.
It has been a privilege to work with four outstanding professionals – Andreas Feiner (Arabesque Asset Management), Andreas Hoepner (University College Dublin), Steve Lydenberg (Domini Impact Investments) and George Serafeim (Harvard Business School) – to assemble and edit this publication. In it, we showcase some of the innovation taking place in the field, and the wide-ranging impact Sustainable Investing is having on the investment profession.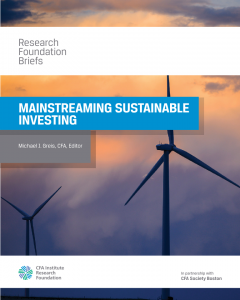 In choosing their topics, the authors built on ideas and work they discussed as speakers at our CFA Society of Boston Sustainable Investing seminars. The articles are about transformational economic change, quantitative investing, performance of a multi-asset class portfolio, and systemic risk management as a source of smart beta. Those may strike some readers as unexpected topics to find in a sustainable investing brief, and that's very much to the point. These articles are describing the leading edge of applications incorporating ESG issues, factors and indicators into the investment process.
In an introduction to the articles in the brief, I provide some context for these developments, drawing on the central role of environmental, social and governance systems in value creation. This very fundamental connection between ESG factors and investment value makes possible the application of "sustainable investing" approaches by firms to benefit a much wider universe of investors than those who currently identify as "sustainable" investors.
Just published – Mainstreaming Sustainable Investing Research Brief