We enjoyed another full house at this year's 7th annual CFA Society of Boston Sustainable Investing conference. Thank you to all who attended, to our speakers and panelists, and our sponsors.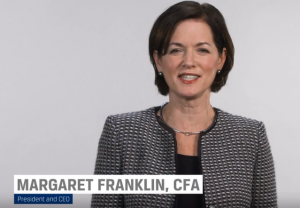 An introductory message from new CFA Institute CEO Marg Franklin set the tone by unequivocally placing Sustainable Investing as one of the most important topics for the future of our industry. CFA Charterholders should take 4 minutes to watch Marg's introduction.
Pam Norley (President, Fidelity Charitable) and Fran Seegull (Executive Director, US Impact Investing Alliance) opened the formal program with a wide-ranging assessment of the rapid growth and evolution of impact investing. Impact investing is a form of sustainable investing whose distinguishing characteristic is the intention of generating measurable social and environmental change (the impact) while also earning a financial return. Pam and Fran made the case that impact has also reached the mainstreaming inflection point. Investment professionals working with individuals should particularly take note. The combination of the very visible institutional impact investing being led by foundations and the widespread penetration of donor advised funds have driven awareness and interest in the retail investor community, especially among millenials.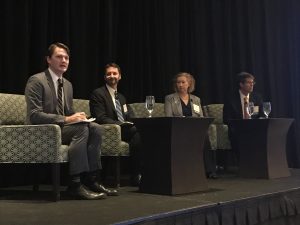 We also took a deep dive into several core topics of investment practice.
James Rich (Aegon Asset Management), Mike Chen (PanAgora Asset Management), Abhishek Gupta (MSCI) and Asha Mehta (Acadian Asset Management) examined performance in sustainable investing.
Andrew Wetzel (FL Putnam Investment Management) led Brittany Bascom (John Hancock Investments), Sarah Hoyt (Cambridge Associates) and Kristine Pelletier (NEPC) in a conversation on selection of ESG managers.
Climate risk assessment was the vehicle for a discussion of data by Laura Zizzo (Mantle 314), Fred Isleib (Manulife Investment Management), Anja Ludzuweit (MSCI) and Samantha Stephens (Mirova).
I had the privilege of leading a trio of subject matter experts – a PhD chemist, a legal analyst and an industry analyst (Tom Bruton (Green Science Policy Institute), Holly Froum (Bloomberg Intelligence) and Andrew Brady (CreditSights) – in a look at toxic chemicals – a problem that affects multiple industries. We looked at the differences between regulated chemicals (in food, pesticides and pharmaceuticals) and unregulated chemicals (found across all categories of consumer products). This is a complex area at the intersection of law, chemistry and investment that is also in the headlines and the public consciousness, as the examples our panel discussed attest – glyphosates (as in Monsanto's Roundup) and PFAS (the subject of the recently released movie, "Dark Waters").
Two in-depth sessions on fixed income rounded out our lineup:
A managers' view of fixed income ESG integration was provided by Max Messervy (Mercer), Rob Fernandez (Breckinridge Capital Advisors), Barbara McKenna (Longfellow Investment Management) and Peter Schwab (Impax Asset Management)
An issuers' perspective on bonds with impact was offered by June Choi (Climate Policy Institute), Steven Nichols (Bank of America Merrill Lynch), Jeff Diehl (Rhode Island Infrastructure Bank) and Aki Jain (World Bank).
When we first launched this seminar in 2013, we had high hopes that it would become what it is today … a leading venue for exposure to innovation and best practices in this rapidly growing area of investment management. Thank you to all who participated for making this year's event successful.
The full agenda and list of speakers and panelists is here.
2019 Sustainable Investing seminar wrap-up