Innovation thrives in times of crisis. Join CFA Society Boston this Wednesday, June 3rd from 12:00 noon to 1:15 pm as we welcome ArkInvest founder and CEO Cathie Wood for a deep dive into multiple innovations that are transforming biotechnology and pharma at a time when we need them most.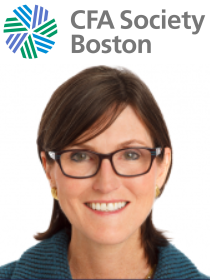 A thematic investor since 1990, Cathie was a featured speaker on investing in disruptive innovation at this year's (virtual) CFA Institute 73rd annual conference. We are thrilled to have her (virtually) in Boston for a more in-depth conversation and Q&A on innovation in one of the most vital economic sectors in our region. Boston-area institutions are global leaders in biopharma research & development. The Biopharma, medical device and health care delivery generate over $50 billion a year in economic activity for the region.
Cathie and two of her colleagues will lead a conversation on concurrent innovation in three areas – next generation sequencing, big data & machine learning, and CRISPR gene-editing – and the compounding economic impact they can generate in biopharma.
Our June 3rd CFA Boston webinar, Genomics and Biotech Innovation in the Battle Against COVID-19 is open to all.
Registration through this WebEx link.
The Power of Compounding – Genomics and Biotech Innovation in the Battle Against COVID-19