Please join us on Wednesday, December 16th at 9:30 am EST as CFA Society Boston presents the final 2020 webinar in the Climate Change Investing Series. Climate change is a planetary issue that spans generations and sectors of the economy. Mitigation and adaptation is systems change on an unprecedented scale. Investors increasingly recognize the important role they play – the impact climate change will have on their investments and the impact their investments must have in addressing the challenge. They are pushing companies and asset managers for improved reporting and analytics and supporting budding actions to develop disclosure regulations. While improved company level data is important, it is becoming increasingly clear that asset owners will not wait for perfect data before holding managers accountable for climate risk management.
Demands being placed on investors to evaluate climate risk present a series of challenges that include navigating the various types of climate risk data available and the emerging approaches to using data as an input to estimate portfolio level climate risk. Scenario analysis is one of the most useful tools for incorporating climate change research into the investment process, providing insight into climate pathway alignment and compliance with standards such as TCFD.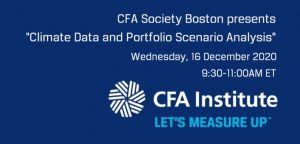 Join CFA Boston on December 16th from 9:30 – 11:30 am EST as we open our session with a review of the current climate data and portfolio-level scenario analysis provider landscape with Edward Baker from PRI. That will be followed by an exploration of MSCI's Climate VaR platform with David Lunsford. Our panel will discuss how current climate scenario analysis helps investors better manage risk and meet emerging climate disclosure regulations and client requirements, then wrap up with a group discussion on the future of climate data and portfolio scenario analysis.
Register for the December 16th webinar here at the CFA Institute's web site.
Panel Participants:
Edward Baker – Senior Specialist, Climate and Energy Transition, PRI
David Lunsford – Head of Climate Policy and Strategy, MSCI
Andrew Wetzel, CFA – Principal, F.L.Putnam and event host representing CFA Boston
Replays of the previous webinars in the series are available here.
Climate Change Investing Series – Climate Data and Portfolio Scenario Analysis – December 16th