Thank you to everyone who contributed to the success of our 5th annual CFA Society of Boston Sustainable Investing seminar this past Monday at the Boston Sheraton. First and foremast, thank you to the approximately 150 attendees at this year's event, representing the audience we strive to attract – a cross-section of the investment community. The audience was engaged and enthusiastic. I was pleased by the positive feedback we received from attendees throughout the day.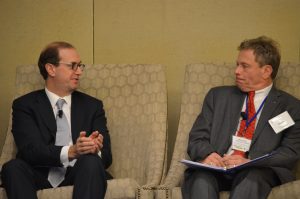 In my opening remarks, I noted that our mission and our tagline –
Mainstreaming Sustainable Investing
– was an aspirational statement when we held the first seminar in 2013, but is very tangible and very real today. We see that very clearly as we develop the content and reach out to potential speakers and panelists.
One of the most important – and enjoyable – aspects of planning this event is the close engagement and collaboration we have with our speakers and panelists. Their commitment and preparation is evident when they take the stage. Our thanks to each of them (in order of appearance):
Ken Hokugo, Pension Fund Association of Japan
Jason Jay, MIT Sloan School
David Stangis, Campbell Soup
Nelson Switzer, Nestle Waters North America
David Tulauskas, General Motors Company
Noel Friedman, MSCI
Edward Farrington, Natixis Global Asset Management
Jordan Farris, TIAA Nuveen
David King, Fidelity Investments
Mark Wiseman, BlackRock
Matt Patsky, Trillium Asset Management
Ann Condon, General Electric Company
Sophia Mendelsohn, Jet Blue
Katy Zhao, Morgan Stanley
Monika Freyman, Ceres
Cyrus Latfipour, MSCI
David Richardson, Impax Asset Management
Andrew Teras, Breckinridge Capital Advisors
Carol Jeppesen, Principles for Responsible Investment
Mahesh Jayakumar, State Street Global Advisors
Justin Sloggett, Principles for Responsible Investment
You'll find the range of topics this group covered in the session agenda. Scan the Twitter traffic for #CFABSI for more information.
Finally, thank you and congratulations to our CFA Society of Boston seminar committee – Jeremy Cote, Mark Duffy, Rob Fernandez, Aimee Forsythe, Noel Friedman, Larry Pohlman, Tim Rheaume, Tony Trzcinka and Wenyu Xiong – and the incredible CFA Society of Boston staff who make this event happen – Dary Burgos, Caitlin Goudreau, George Dudley and Stephanie Field.
Thank you for another successful Sustainable Investing seminar