Please join Principles for Responsible Investment and CFA Boston on Monday, November 9th from 2:00 – 3:00 pm for US Insurers and ESG Incorporation in Credit Risk . This session kicks off a series of events exploring sustainable investing and the US Insurance Industry.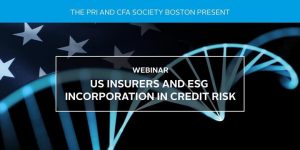 The global fixed income community is increasingly seeking ways to factor in ESG criteria and sustainability considerations when allocating capital and managing risks. The majority of credit ratings agencies have begun to reflect ESG factors in credit risk analysis.  But while European based insurers have been publicly embracing and reporting on the incorporation of ESG, their US counterparts have been less forthcoming even though portfolio asset risk and credit risk is certainly top of mind for the industry.
On September 22nd, 2020, the New York State Department of Financial Services issued a letter to insurance companies on climate change and financial risks. Citing climate change as "one of the most critical risk-management issues of our generation", the Department laid out a process of engagement with, support for and clear expectations from the companies doing business in the state:
At a high level, DFS expects all New York insurers to start integrating the consideration of the financial risks from climate change into their governance frameworks, risk management processes, and business strategies.
In Monday's session, insurance investment portfolio practitioners will discuss their current ESG approach with PRI's Head of Fixed Income Carmen Nuzzo and Nina Chen, the Director of Sustainability and Climate Initiatives at the NY State Department of Financial Services. The conversation will also look to identify industry trends we may expect to take shape in the coming year.
View the webinar recording of US Insurers and ESG Incorporation in Credit Risk.
Our Speakers:
Nina Chen, Director of Sustainability and Climate Initiatives, New York State Department of Financial Services
Matt Daley, CFA, Head of Global Fixed Income, Conning Investment Management
Emily Wiener, Head of Fixed Income, TIAA General Account
Carmen Nuzzo, Head of Fixed Income, PRI
US Insurers and ESG Incorporation in Credit Risk – the first of a webinar series