Interest in the "S" in ESG has been quietly growing in the last several years. The pandemic brought a new level of attention to these issues as investors assessed how well companies were prepared for – and responded to – large-scale disruption to their workforces, supply chains, customers and communities. The pandemic also brought into focus the interconnection among health, climate change and inequality. Contrary to past experience with successive highly charged issues that command attention, the nationwide attention on climate change and racial inequality reinforced each other.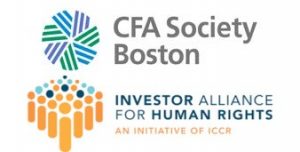 A challenge to our ability to understand and consider these issues in an investment context is the diversity and range of "social" issues.
For the first event in our CFA Boston spring Sustainable Investing series, we invite you to join us on Tuesday, May 4th at 12 noon for a conversation that will explore and explain the fundamental underpinnings of "social" issues in human rights frameworks, and the implications for specific topics of concern to investors.
We're delighted to welcome an outstanding panel for experts for this session:
Anita Dorett, Director of the Investor Alliance for Human Rights, an initiative of ICCR, the Interfaith Center on Corporate Responsibility
Emma Pullman, Capital Stewardship Officer, British Columbia Government and Service Employees' Union (BCGEU)
John Wilson, Vice President, Director of Corporate Engagement, Calvert Research and Management
Rosa van den Beemt, Vice President, Responsible Investment Analyst, BMO Global Asset Management
Register here for this no-cost webinar; CFA Boston members should register through the CFA Boston web site.
Tuesday May 4th- ESG Series: Understanding the Evolving "S" Landscape Through its Foundations in Human Rights