The growth of sustainable investing has been driven by the recognition that environmental, social and governance issues are material factors contributing to investment performance and that, in turn, the businesses and projects in which we invest have a material impact on those issues in the economy and the world around us.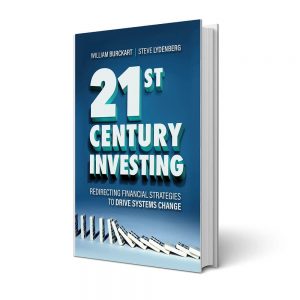 System level investing is a new way of thinking about investing that builds on this foundation. As outlined by industry pioneer Steve Lydenberg and Bill Burckart in 21st Century Investing: Redirecting Financial Strategies to Drive Systems Change, applying the power of investments to enhance the social, environmental, and financial systems on which long-term returns depend is essential to addressing the complex problems we face today. This is systems thinking integrated with investment decision making.
Systemic challenges like climate change, inequality and global health have been front and center nearly constantly in the last 18 months. These system-level issues are global and complex. They have the potential to destabilize society as well as transform it. Their effect will be felt across all asset classes.
Advisors are increasingly facing client questions on these issues. Advisors can leverage systems thinking to serve client demand for investments that demonstrably address systemic risks and provide systemic solutions to large-scale problems.
Please join us on Wednesday, October 20th for Integrating System-level Investing into Practice Management as CFA Society Boston's Sustainable Investing initiative has assembled a practitioner panel with extensive experience serving a range of high net worth, family, and small institutional clients to explore this opportunity. We are focusing on advisors in this second event in a multi-part series on System-Level investing.
Our practitioners Kim Gluck, CFA; Dune Thorne, Rick Smyers, and Nakia Maddox-Eubanks, along with author William Burckart, will engage in an in-depth conversation exploring the opportunities, challenges, and benefits of implementing a system level approach in serving their clients. It is my distinct pleasure to introduce and moderate this session.
Registration for this free webinar is here at the CFA Boston web site.
William Burckart is the President of The Investment Integration Project (TIIP), an applied research and consulting services firm that helps investors manage systemic societal and environmental risks, and the co-author, with Steve Lydenberg, of 21st Century Investing: Redirecting Financial Strategies to Drive Systems Change.
Kim Gluck, CFA, Boston Trust Walden, manages balanced and equity portfolios for institutional and private wealth clients. She is a member of the Boston Trust Walden Board of Directors and chair of the Community Reinvestment Act (CRA) Committee.
Dune Thorne is a partner at Brown Advisory, an Investment Advisory firm managing over $120B in assets. She is member of the Executive Team, serves as Chief Strategy Officer & is Co-head of the Private Client Leadership Team.
Rick Smyers is a Managing Director in Fidelity Labs, Fidelity's internal fintech business incubator. Since 2018, he has led the team behind ESG Pro, the sustainable investing software platform for independent advisors.
Nakia Maddox-Eubanks is a senior wealth manager for BNY Mellon Wealth Management. In this role, she provides customized investment solutions and holistic plans for families, individuals, foundations, and endowments.
Integrating System-level Investing into Practice Management – Join us on Wednesday October 20th