New approaches and perspectives served us – and our organizations – well as we navigated Covid. As organizations face new hiring challenges, this is a great time to think differently about who and how they hire. If we can succeed with non-traditional work arrangements, shouldn't we be thinking more about non-traditional candidates?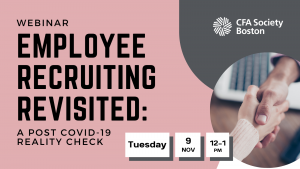 Please join us Tuesday, November 9th from 12:00 – 1:00 PM for Employee Recruiting Revisited: A Post COVID-19 Reality Check.
Our speakers, Addie Swartz, CEO of reacHIRE, and Linda Rossetti, serial entrepreneur and expert on transition, will discuss taking different approaches to creating a more inclusive work culture and demonstrate the hiring process can be re-evaluated and improved.
Non-traditional candidates are people who may not meet traditional job requirements when it comes to education and experience. They may have backgrounds in other fields, be career changers, or are returning to the workforce after some time away. There's no one-size-fits-all for education and experience, so why should there be a one-size-fits-all in your hiring decisions?
All are invited to this session developed by our CFA Boston Diversity, Equity & Inclusion programs committee and moderated by my colleague and DEI committee co-chair, Eileen Durey.
Register here for this no-cost webinar; CFA Boston members should register here at the CFA Boston web site.
Employee Recruiting Revisited: A Post COVID-19 Reality Check