On Thursday, October 1st, the CFA Society of Philadelphia is hosting the second webinar of our Climate Change Investing Series, The Effects of Carbon Pricing on Our Financial Markets. Perhaps the most powerful – and widely called for – tool to address climate change and accelerate the transition to a low-carbon economy is a price on carbon.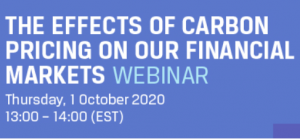 An economy-wide price on carbon will create far-reaching and powerful market incentives. Currently existing carbon pricing is limited in scope – either voluntary, or limited by geography and or sector. Investment professionals participating in some of these markets have seen both positive and negative effects of carbon pricing in valuation and analysis of the security selection process.
On October 1st at 1:00 pm, join an outstanding group of global speakers to discuss the effects of Carbon Pricing on our financial markets.
Michael Azlen, CAIA, the founder of Carbon Cap Management, will provide the background and use of Carbon Pricing in combating climate change.
Nimrit Kang, CFA, Portfolio Manager for Coho Partners, will examine the effects that Carbon Pricing on the valuation and analysis of equity securities.>/li>
Nick Spooner, Investment Manager at Federated Hermes, will examine the effects on fixed income securities.
This one-hour session will be moderated by Mark Hays, Glenmede's Director of Sustainable & Impact Investing.
The Effects of Carbon Pricing on Our Financial Markets – Climate Change Investing Series, Oct. 1st